Die Casting & Assembly of a Zinc Pogo Block Assembly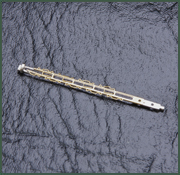 (Click image to enlarge)
The Challenge
To cast the smallest part ever produced by the manufacturer of a pogo block assembly used in high performance test equipment for microchips. The miniature part weighed less than one-tenth of an ounce (.00090 pounds) had the thinnest walls we had ever cast, and one of the smallest (.023) cored hole. The part had been previously been CNC machined from Aluminum 6061-T6, causing several problems:
Unacceptable electrical properties
Deformation of the thin wall areas
Unacceptable ratio between hardness and elongation
Assembly difficulties because of "bell end" shape
Increased costs due to labor-intensive production
The Solution
The difficulty in developing a cost-effective solution was illustrated by the fact that the customer received 20 "NO BIDS" on the project. DeCardy worked with the client's patented mechanical design to cast the part with Zamak 3 alloy. Die casting the part provided several production and performance advantages:
Improved solderability of a copper switch to the pogo block assembly
Better precious metal plating process
Enhanced performance because test devices incorporating the pogo block could change between 16 channels to 8 channels. This also created the ability to switch from analog to digital devices.
The Results
The die cast zinc pogo block assembly solved the mechanical and production challenges while significantly reducing costs and improving performance. Part costs were reduced by more than 95%, parts savings exceeded $1.2 million, and cycle test results outperformed the life of the pin card well beyond the required five years.
Based on DeCardy's ability to push the envelope for a light, thin zinc die casting, the pogo block assembly was an award winner at NADCA's 22nd International Die Casting Competition. To learn more about this project, please contact us directly.
---