Zinc Diecasting for Spotlight Head housing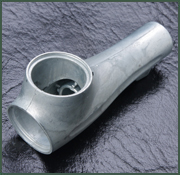 (Click image to enlarge)
The Challenge
To develop a solution for a spotlight head housing for police, emergency, military and commercial vehicles. Zinc was identified as the appropriate material because of its durability and that it can be chrome plated. However, there had been several previous casting method problems with the .39 pound part, including:
Inconsistent surface finish from run to run
Gating that increased the polishing and buffing requirements
A design with poor fit and function that resulted in a large number of field failures
Coring to minimize material
The Solution
DeCardy determined the Zinc 3 alloy being used to be acceptable, however, a change in the casting method from the previous low tech, conventional machine to a high-pressure French DAW 50S cell was required. Additional changes included:
A revised design to incorporate an O-ring to prevent electrical failures
Production improvements to decrease the number of components, incorporate a plastic housing interface, and add drill points for fastening
Unique gating to reduce flash and decrease buffing
Single cavity tooling in fast cycling equipment to eliminate cavity-to-cavity variation
The Results
The casting changes that were approved and implemented produced a more aesthetically pleasing and better performing housing design, provided production improvements and reduced costs. This included securing the "A" pillar tubing with higher accuracy and using the O-ring to prevent shorting out the electrical system. The number of pre-plating buffing operations was reduced by 60%, with an overall cost savings of 36%.
The improvements resulted in the casting being named an award winner at NADCA's 23rd International Die Casting Competition. To learn more about this project, please contact us directly.
---