Secondary Services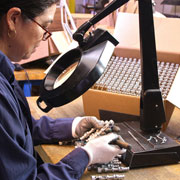 (Click image to enlarge)
DeCardy offers customers a broad range of in-house secondary services including finishing, assembly and packaging, saving them time and money by completing and shipping parts from one location.
Finishing
An advantage of die cast parts is their smooth cast surface. Zinc alloy also provides a highly stable base for a range of finishing processes and materials including:
Deburring
Semi polishing (via Vibramilling)
Chrome plating
Nickel electro and electroless plating
E-coating
Powder coating
Chromating
Precision grinding and machining
Assembly
DeCardy offers flexible assembly solutions and can meet most finished component requirements. From partial to full assembly, we can deliver assembly line-ready parts precisely when and where they are needed.
To assure the highest quality of every part DeCardy assembly employees must undergo rigorous training that they have the skills and knowledge necessary to consistently meet customer assembly requirements.
Packaging & Delivery
From individual to bulk, DeCardy can accommodate virtually any packaging or delivery requirement. We don't consider a production solution complete until our parts are received when, where, and in the quantities and conditions they're needed.