High Precision Zinc Die Casting Services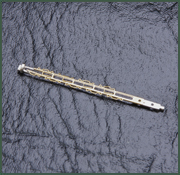 (Click image to enlarge)
DeCardy Diecasting offers high precision zinc die casting services with the ability to produce difficult and complex miniature or small functional parts. Our wide selection of advanced machinery is capable of (see machine specifications below) 250 to 700 shots per hour, exerts 7 to 50 metric tons of clamping pressure, and produces shot weights of up to 2 lbs.
Parts are available in sizes up to 24" in length and 24" in width. Manufacturing utilizes a versatile, efficient high pressure die casting process producing and maintaining tolerances of ± 0.0005" throughout. Typical lead times are 4 to 6 weeks, handling small to large production volume. DeCardy's developed concurrent engineering process optimizes quality and productivity, resulting in a highly cost effective and reassuringly consistent production experience.
Post-casting processes include machining, tapping, grinding, and Vibramilling. Surface finishing options include buffing, painting, e-coating, and electroplating. All production takes place on-site at our ISO 9001:2008 certified facility and every part is subjected to a full regimen of quality assurance protocols and thorough testing and inspections including optical comparator testing. For more information about precision zinc die casting and specialty services, see the table below or contact us directly.

---
Portfolio
---
Zinc Die Casting Capabilities
General Capabilities

High Precision
Highly Engineered
Difficult Parts
Complex
Product Capabilities

Miniature
Small Components
Casting Method

High Pressure Die Casting
Clamping Pressure

7 to 50 metric tons
Shot Speed

250 to 700 shots per hour
Mold Longevity

Up to 2,000,000 shots
Casting Mold Type

Conventional
Multi-Slide
Cavity Sealed
Unit Die
Independent Die
Die Sets
Materials

Zinc
Casting Width

Up to 24 in
Casting Length

Up to 24 in
Shot Weight

Up to 2 lbs
Tolerance

± 0.0005 in
Part Specific
Casting Analysis

Flow
Thermal
Inspection

Optical Comparator
Testing

Customer Specific
Quality Assurance

Regimens
Additional Services

Concurrent Engineering
Tool Maintenance & Modification
Contact Assembly
Customized Packaging & Shipping
Post Die Casting Operations

Machining
Drilling
Tapping
Milling
Grinding
Finishing
Vibramilling
Finishing

Bead Blast
Vapor Blast
E-Coating
Powder Coating
Painting
Electro-Plating
Polishing
Buffing
Production Volume

Small to Large Runs
Typical Lead Time

4 to 6 weeks
Emergency Service Available
Additional Information
Industry Focus

Electronics
Medical
Automotive
Industrial
Housing
Satellite
Tool Manufacturers
Intended Application

Semiconductor Switch Base
Motorcycle Throttle Bracket
Dead-Bolt Lock Frame
Electric Window Gear Bracket Assembly
Instrument Case Cover
Audio Connector
Wall Mount Plate
Valves
Industry Standards

ISO 9001:2008
ISO 13485:2003
North American Die Casting Association (NADCA)
Tooling and Manufacturing Association (TMA)
NSF-ISR
Machines

Techmire
Roto-Finish
French
File Formats

SolidWorks