Die Casting of a Fuel Injection Bracket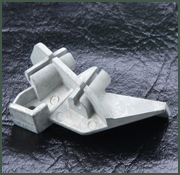 (Click image to enlarge)
The Challenge
To find a solution for a throttle stop bracket used in the fuel injection module of high-powered motorcycle engines. The existing part was a welded stamped assembly, which had numerous problems:
The part required up to six stamped components
Cable guides were not precise
Welding during assembly affected the heat-treated components
Poor corrosion resistance
Unacceptable part consistency and cost
The Solution
DeCardy converted the design from a multi-part assembly to a single die cast component using ZA 8 alloy cast in a French DAW 20S cell. Our unique tooling, using a slide within a slide, produced the complete part within a single cavity die-casting cell. Other advantages included:
Improved load strength and consistent mechanical properties throughout the part
Heat treating not required
Ability to powder coat to a specific color
Consistent part-to-part and run-to-run production specifications
The Results
The new zinc die cast bracket met all of the customer's performance criteria and exceeded expectations for engineering. As the customer noted, "Integrating all the features we wanted without machining was very challenging." The benefits of the single zinc die cast component included the number of assembly operations being reduced by 70%, with costs being decreased by 76%.
Based on these accomplishments, the part was an award winner at NADCA's 22nd International Die Casting Competition. To learn more about this project, please contact us directly.
---